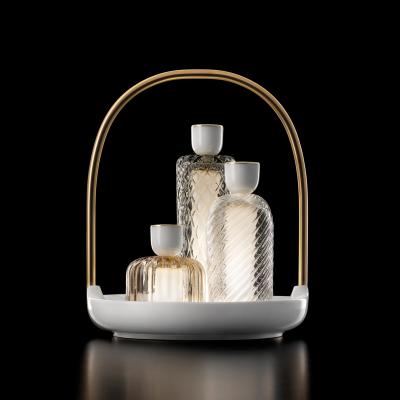 Trinitas is based on the Renaissance concept of three becoming one, the foundation of universal beauty. In Trinitas each component of the object blends together to create an aesthetic harmony. The Trinitas lamp is portable, rechargeable and adapts with simplicity and elegance to any environment, also making it ideal for completing a mise en place. Three mouth-blown Venetian crystal elements come together on a porcelain tray supported by a gold-plated semi-opaque metal arch. The ballotòn, rigadìn and rigamenà textures present on the crystals pay homage to the Murano tradition. Available in three colors with adjustable light intensity, Trinitas is entirely handmade, making each piece unique and unrepeatable.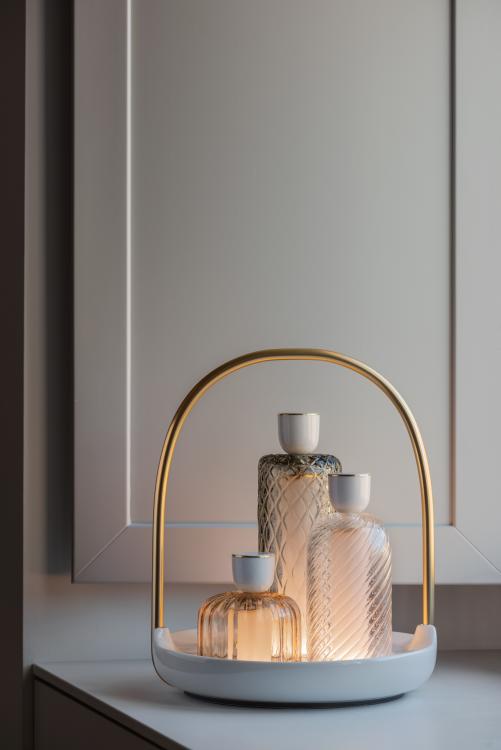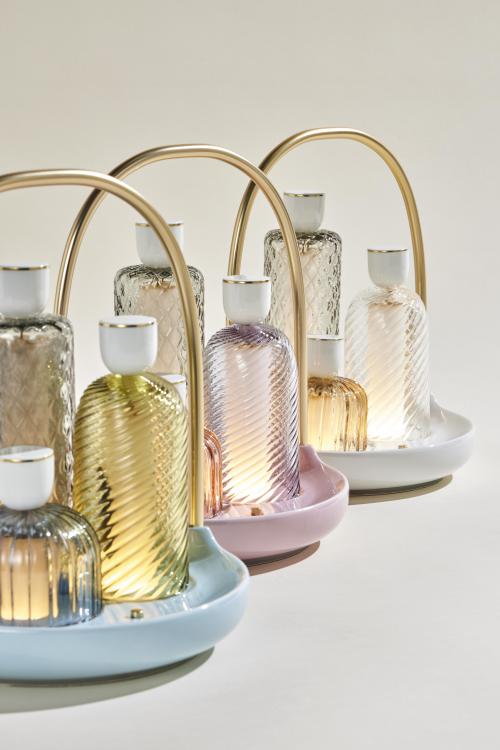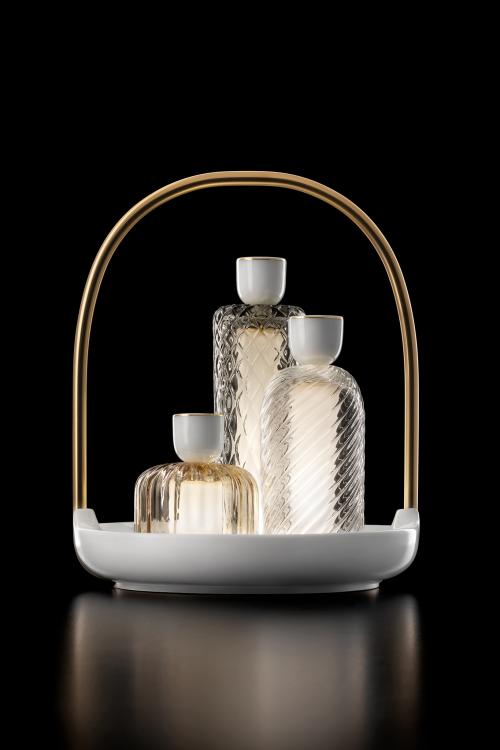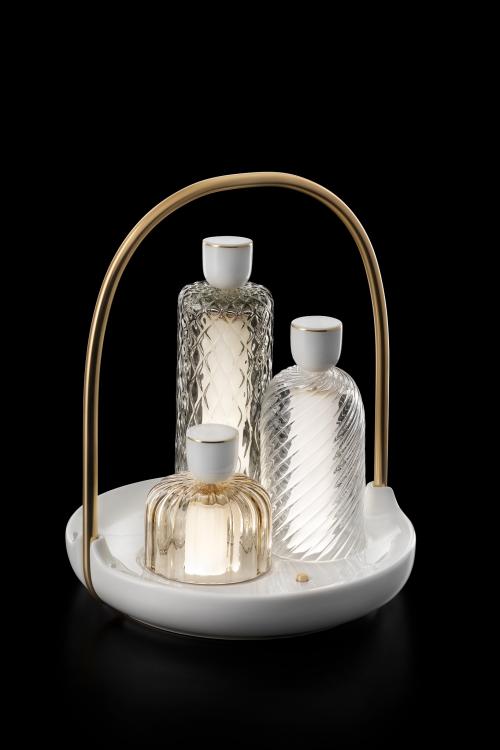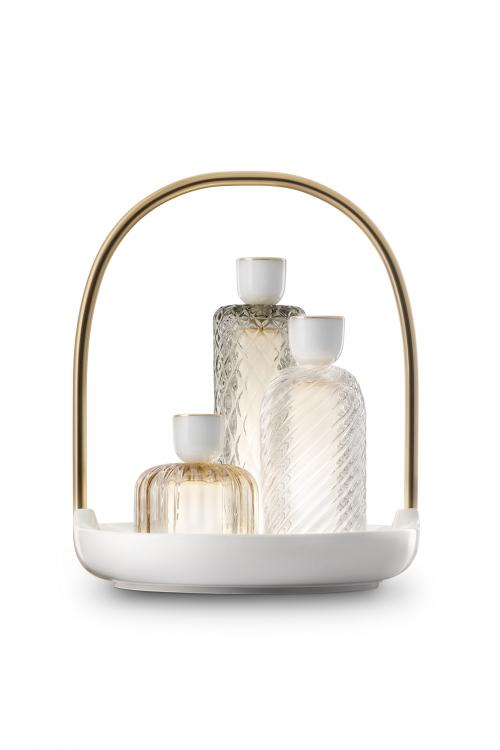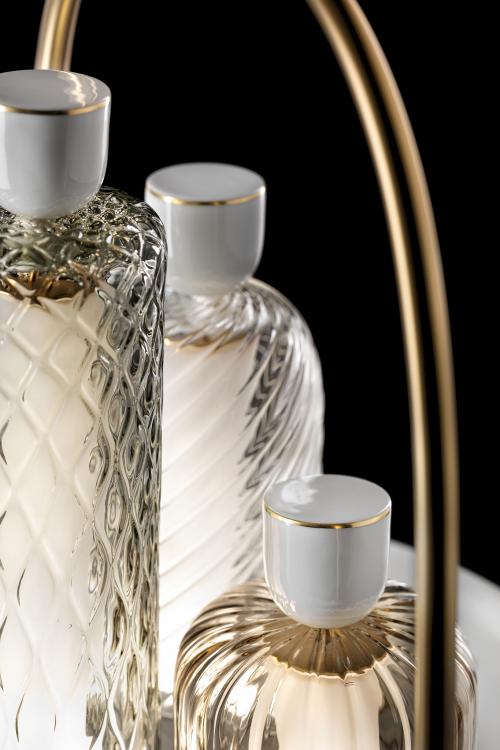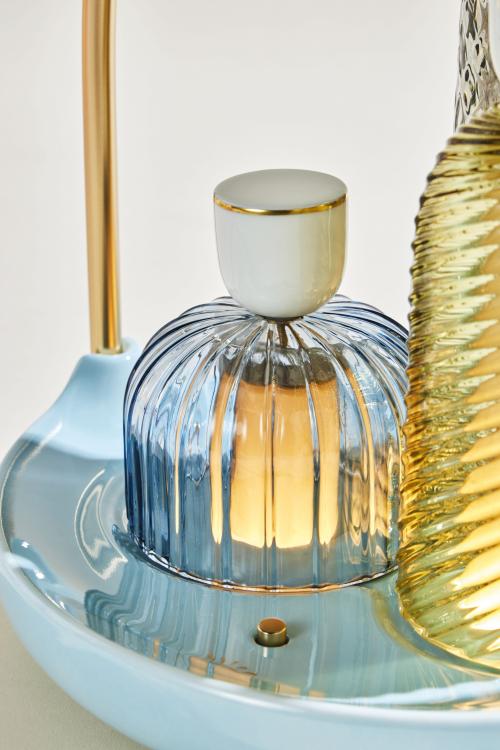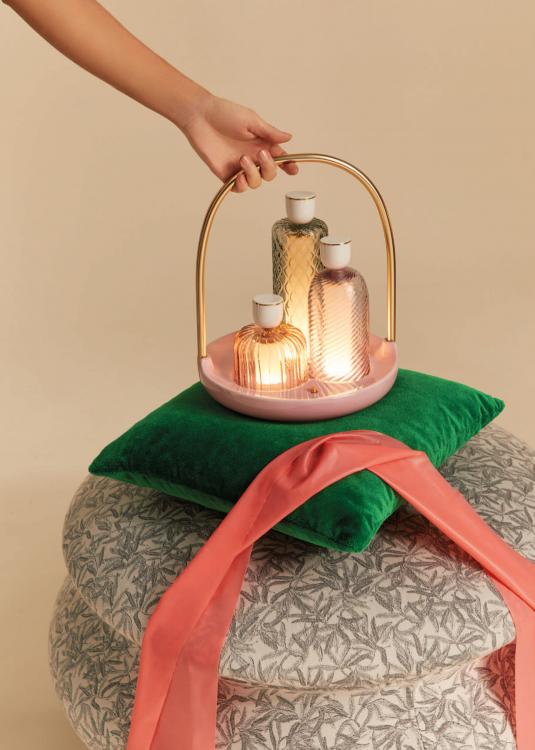 Finishings
XR

Amethist/Grey/Periwinkle
White

White porcelain (only for XF)

Light Blue

Light blue porcelain (only for XL)

Pink

Pink porcelain (only for XR)

Spec sheet

7404
Collection

Domus

Typology

Table lamps

Height

Diameter

Weight

Bulbs

1 x 0,83W Led - dimmable - included
1 x 0,83W Led - dimmable - included

1 x 1,66W Led - dimmable - included
1 x 1,66W Led - dimmable - included

1 x 2,49W Led - dimmable - included
1 x 2,49W Led - dimmable - included

Certifications

EAC - cULus
Download pdf
Download
Brochure

3D Model (.obj)
Luca Nichetto
Luca Nichetto was born in Venice in 1976, where his artistic talents were inspired by the famous Murano glassmaking industry, which employed members of his family. His career effectively started in his schooldays, where holidays were spent selling his designs to local factories, before he went on to study at the city's Istituto Statale d'Arte and then take a degree in industrial design at the local Università Iuav di Venezia (IUAV), graduating in 1998. The following year, he joined the Murano-based glassmaker Salviati, later becoming a product designer and consultant for lighting company Foscarini. He took the leap to setting up his own practice in the city, Nichetto Studio, in 2006. Five years later came another major turn in his career, when he moved to Stockholm, Sweden, to start his family and opened a second studio there, combining his Italian flair with the Swedish spirit of modernity and sustainability.
Over the years, Luca has served as art director for many international design brands and gained a reputation as a multidisciplinary designer. He has lectured and led workshops at several universities, including serving as a professor of design at the IUAV, and has sat on juries for various international design competitions. His work is often featured in prestigious exhibitions worldwide and has been the subject of retrospectives in cities including London, New York, and Beijing. His highly researched, innovative projects have earned him an impressive array of international awards for designs that range from products, accessories and furniture to architecture, exhibition design and branding.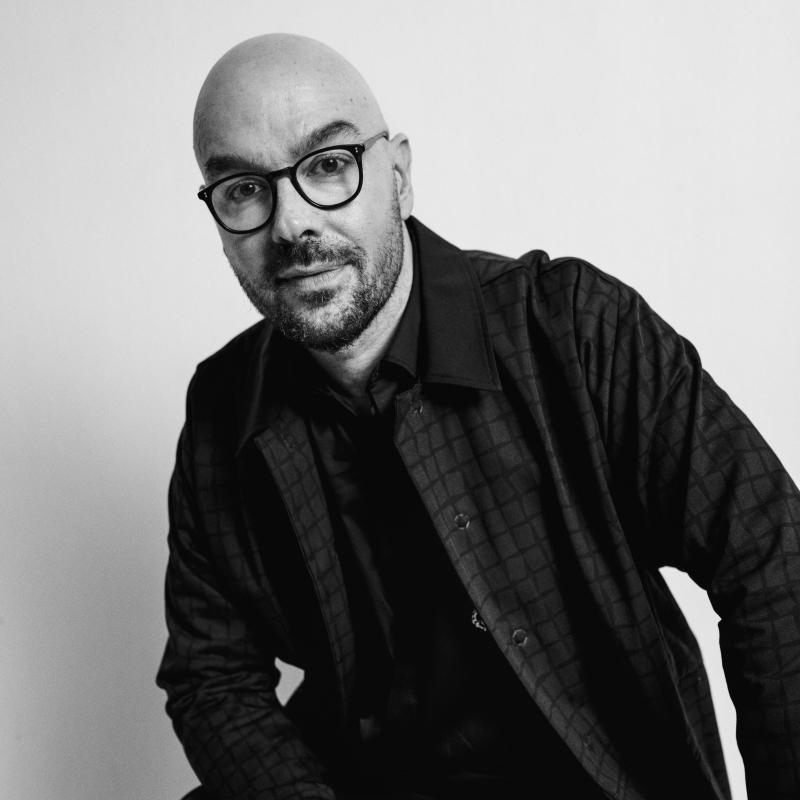 Ask for more information
Interested in Trinitas? Contact our consulting and design service to get all the details you are looking for.
Fill in the form