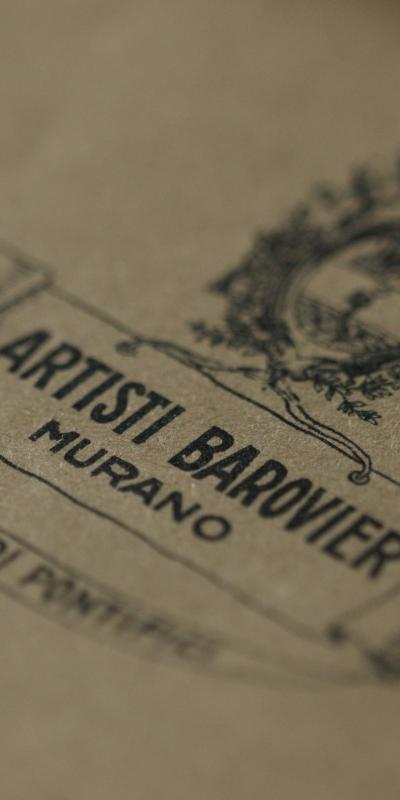 In seven centuries of history, we have seen fashions come and go. Some were minimal, others more baroque, but every one of them chased time in a desperate search for the "new."
Time in Venice, instead, goes by slowly. There is no rush, no craze, just a great deal of space and time to develop your craft. So we took our time and in that time we have learned that we would rather do something unique and enlightening that lasts forever instead of something new that only fascinates you for one season. It takes strength to bring glass out from the fire and heat. It takes patience to strive for nothing less than the perfect shape. And it takes heart, a lot of it, to grow a legendary luxury lighting tradition into the new world, working with innovators
and traditionalists alike. But again, we can afford the luxury of time.
And perhaps, so can you.
Brand Values
Mastery.
Only in Murano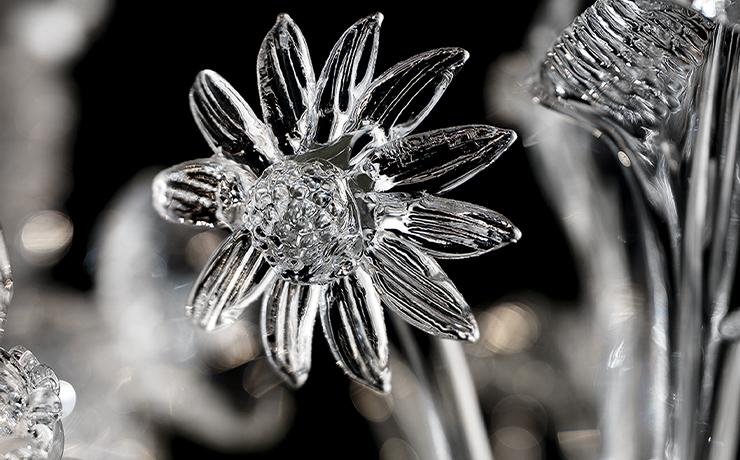 The fragile, perilous secrets of glass making have remained on the island for longer than a thousand years and fostered the perfect environment for young talents to experiment, learn from their masters, and ultimately emerge on their own.
Heritage.
The secrets that made us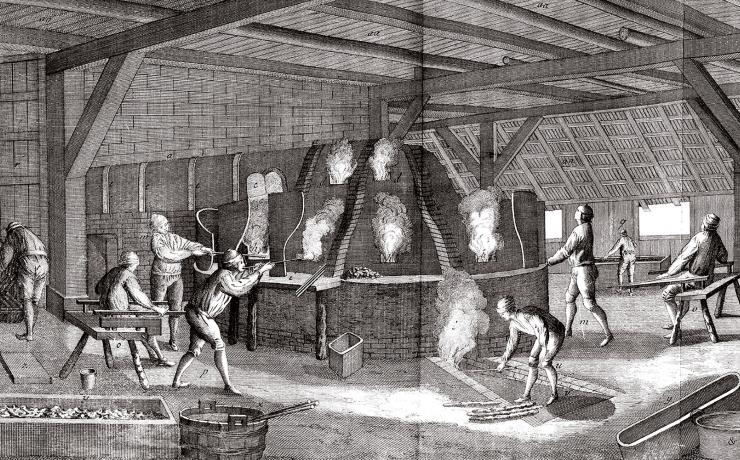 To get where we are now, we've had to pass our craft down to the next generation of artists for more than seven hundred years. Ancient techniques kept alive through daily implementation and development for more than twenty generations.
Passion.
Heart and alchemy

Days and weeks spent at the glassworks, 1200 degrees and above, pinching, cutting, blowing, twisting incandescent material until sand and fire fulfill their destiny and become a creation.
Excellence.
The path to nobility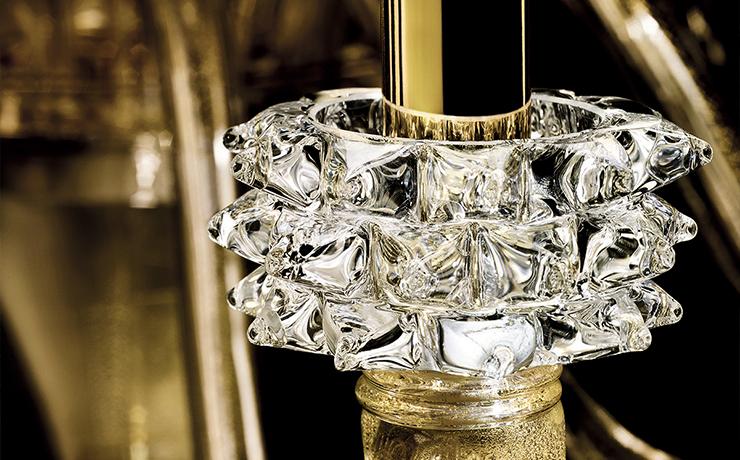 Excellence has always played a major role in the company's traditions, and its whole story seems to be guided by an unquenchable thirst for perfection establishing a philosophy of uncompromising quality that became the framework for each and every one of its luxury icons.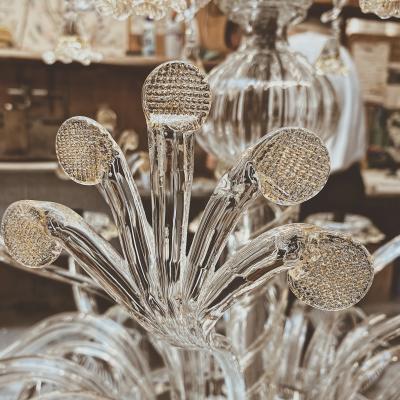 The value of a unique material
The Venetian Crystal
The creations of Barovier&Toso are one-of-a-kind works in Venetian mouth blown crystal and handcrafted by master artisans in Murano, custodians of an age-old tradition passed down across the generations.
Angelo Barovier invented a revolutionary formula that made it possible to obtain an unprecedented material with extraordinary characteristics of extreme transparency and brightness.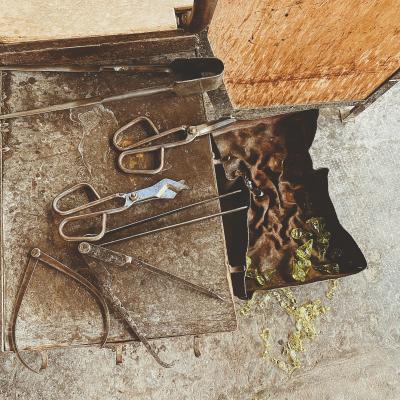 Thanks to a decree issued by the Republic of Venice in 1455, Angelo Barovier was granted the exclusive right to produce "Cristallo Veneziano" (Venetian Crystal). The factor that makes this formula unique, still used today through progressive refinements, is the total absence of lead and arsenic. This is what makes our Venetian Crystal different from any other crystal on the market, enabling the master artisans to carry out the entire production process in complete safety, achieving exceptional results. The Venetian Crystal is a unique, sustainable and safe material, ideal to give form to works of great artistic value: the creations of Barovier&Toso.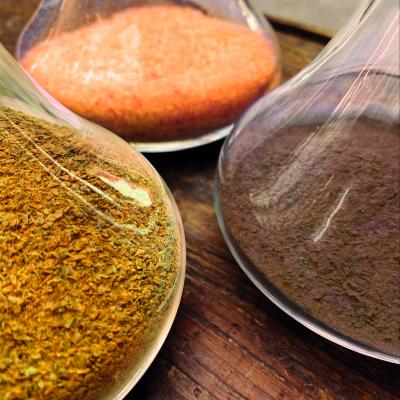 The furnace
The Art of Crystal
Our Venetian crystal takes a long time to make. It begins with the preparation of the partìa in the afternoon, followed by firing throughout the night. On the next day, the master glassmaker crafts the piece, after which the glass is cooled and finished on the third day. The cycle constantly repeats, without interruptions.

A dry mixture is prepared every afternoon, is known as the partìa, namely the cold blending of sands and powders required for the production of the type of glass scheduled for making on the following day in the furnace.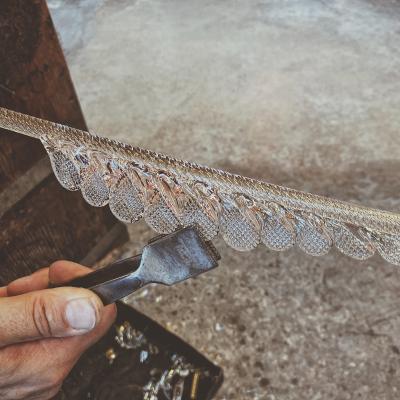 Inside the glassworks all the operations are carried out by one or more operative teams that work on the piece from the first removal, namely the extraction of the first glass piece for crafting, all the way to the finished item (in terms of hot forming), which is then placed in an annealing oven.
This operative unit is known in Murano as a piazza, formed by a variable number of workers, depending on the rhythm of the work and the type of product to be completed.
The piazza is guided by a master glassmaker who is assisted by a "servant", his main helper, as well as serventini and garzoni (apprentices).
The master glassmaker still operates and works with antique tools, encoded by experience, simple and essential, which cannot change over time: tubes, pliers, shears, compasses, templates and moulds.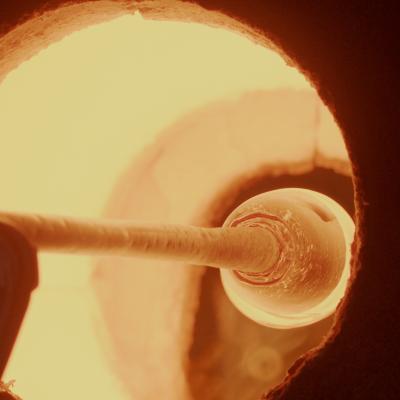 Many types of workmanship are done mano volante (freehand), but often the blowing happens with the aid of moulds in wood or cast iron, or the glass is poured into containers for the production of glass plate.
The finished piece is still very hot, around 400°/500°, but it is already very rigid and is moved to the cooling oven from which it will emerge completely de-tensioned, ready for cold workmanship.
At this point the glass leaves the area strictly known as the glassworks, and enters a more specific grinding department where very simple mechanical means are used to detach, finish and polish the piece with saws and grinders.
Finally, the piece passes through washing, quality control, preassembly, packing and shipping.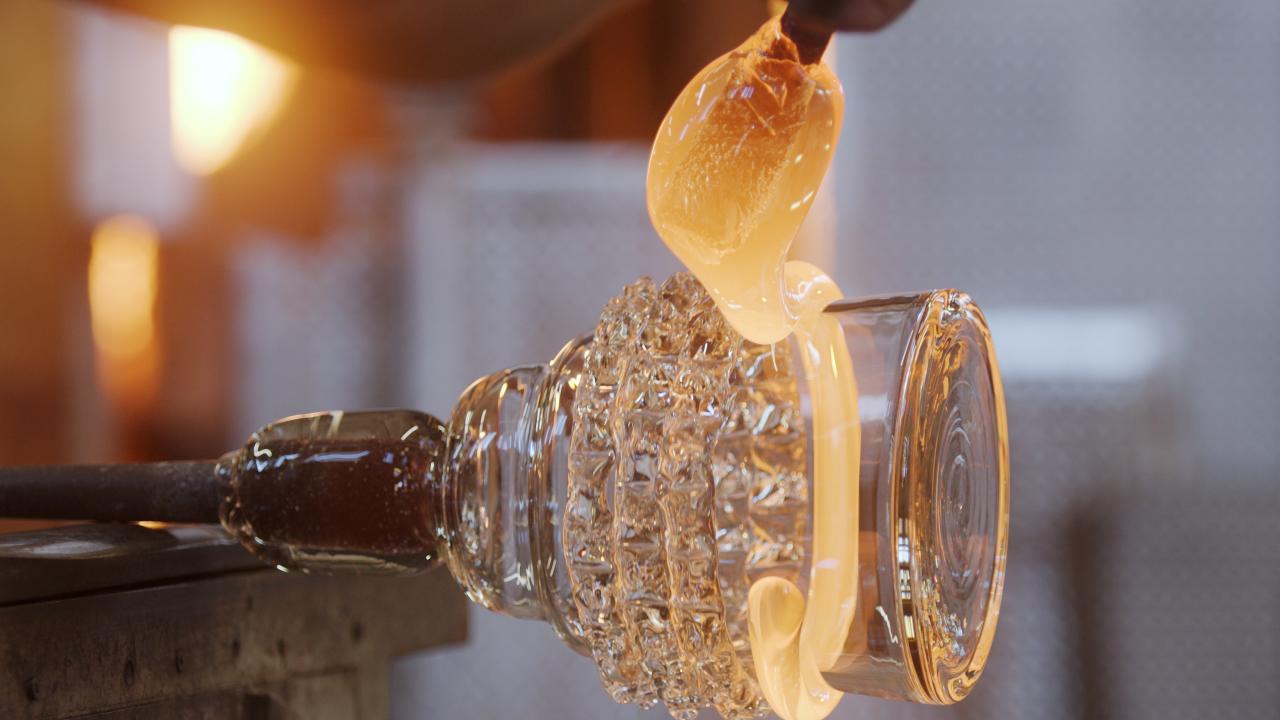 Catalogue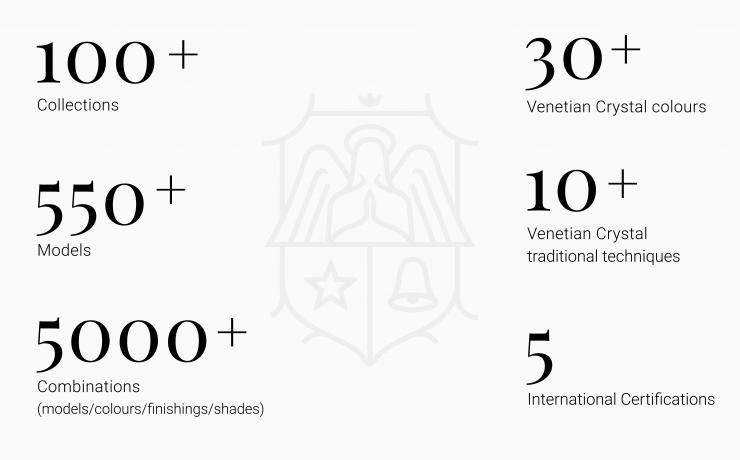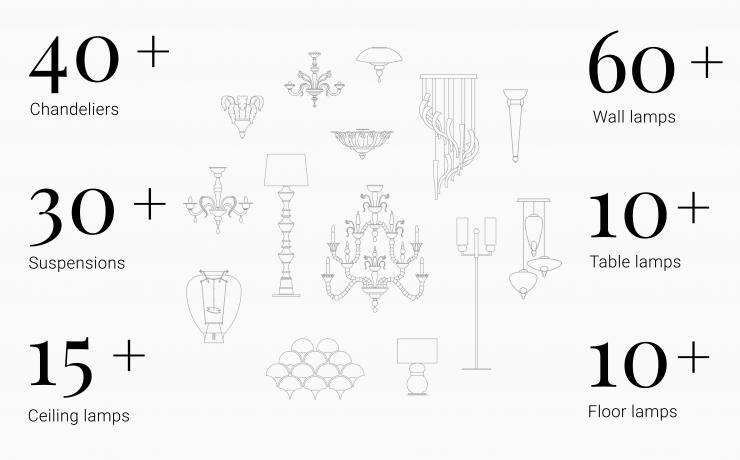 We interpret the world of living with elegant and refined products that allow us to bring Italian style to the world and create unique and unforgettable furnishing experiences.

A tradition that is continually renewed, like a fil rouge that binds past and present.

The catalog collections offer a wide and sophisticated variety of products that share quality and refined design. Different in style, taste and function, from the most decorative to the most contemporary, they are able to satisfy every type of customer, even the most demanding.

Over 100 collections declined in about 550 models and types. More than 5000 possible combinations thanks to over 30 colors and 10 different traditional Venetian crystal workings, modern metallic finishes and precious fabrics for the lampshades.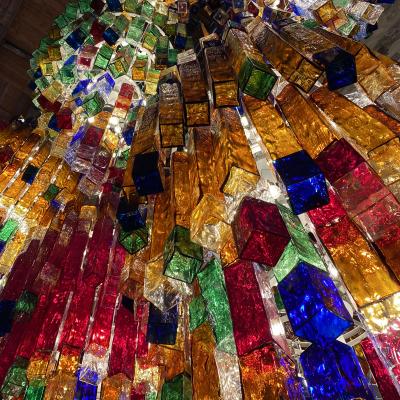 Bespoke
Everything we create is based on over 700 years of sartorial prowess Made in Italy. This know-how is clearly perceptible in the making of all our products, each of which has its own distinctive story.
Discover more
Showroom
Concentrating investments on its exclusive points of sale, Barovier&Toso wagers on the brand's calling cards par excellence, narrating its story in a direct, uncompromising and timely way.
Discover More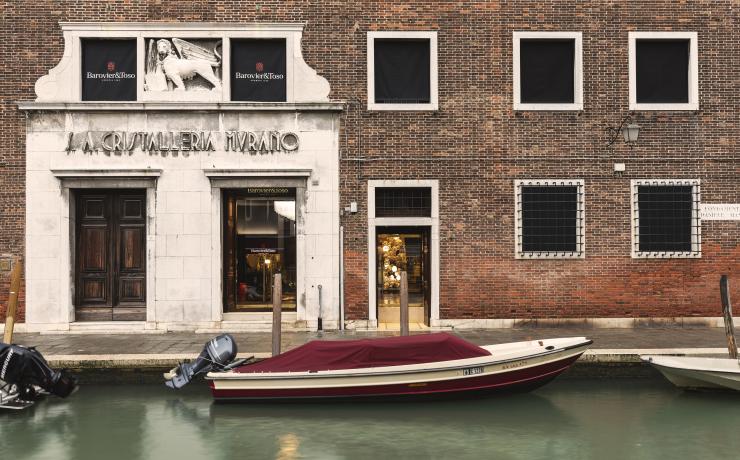 Palazzo Barovier&Toso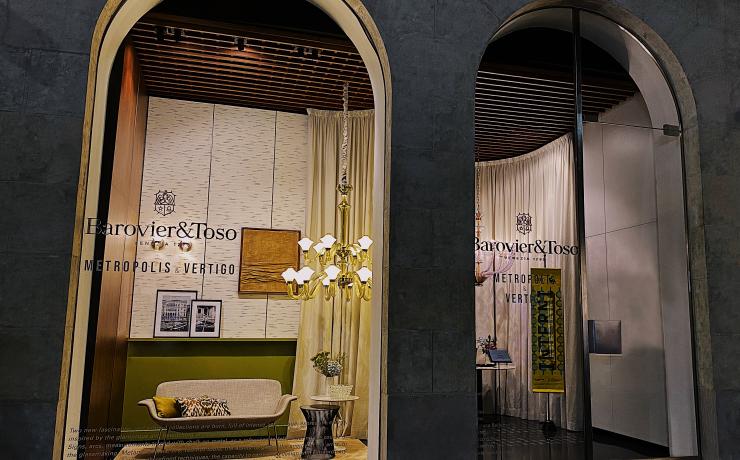 Milan Showroom & Concept Flat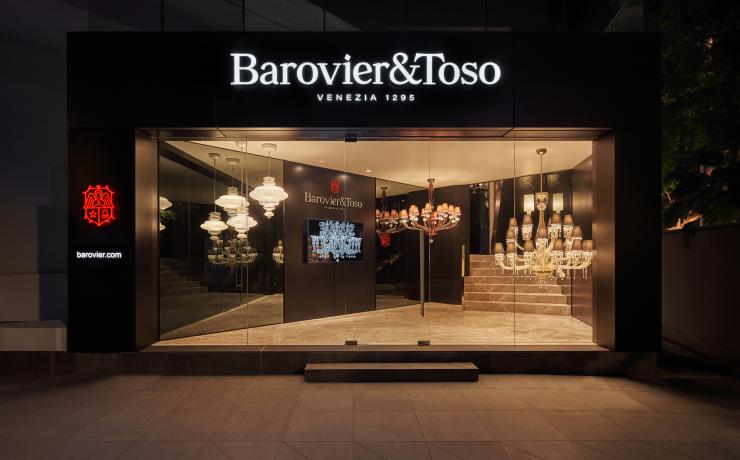 Singapore Showroom