Class and refinement as the outcome of a profound dialogue between Barovier&Toso and Philippe Nigro.
​​​​​​​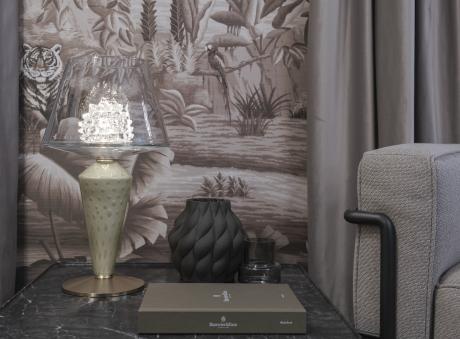 Already the creator of the Opèra family, Philippe Nigro again reinterprets Venetian Crystal by designing the Grace collection of table lamps. The proud elegance typical of regal bearing sets the tone of the design and style of these products. ​
The inspiration comes from several creations included in the historic photographic archives of Barovier&Toso, sharing a similar concept.
To safeguard, to enclose, to enhance: these are the purposes of the external diffuser, in the role of "armour" but also as a showcase, heightening the beauty of the precious rostrato, the heart of the object that captures the gaze. The same material, Venetian Crystal, with different faces… Very different forms and types of workmanship bring out the crystal's impact, interacting in an eclectic, captivating way.
For Grace, Philippe Nigro has created a design with essential lines, embodying classic charm conveyed by refined proportions and clear volumes. The structure borrows the form of the diffuser from the traditional Murano chandelier: the cup grows in size to become a large goblet, forcefully flaring upward. The light source glows inside, studded with the faceted prisms typical of the rostrato technique, precisely crafted by the hands of a master glassmaker.
The base in Venetian Crystal, on the other hand, is the result of a combination of three types of workmanship, applying a process developed to obtain a layered wall, glowing and rich in contrasts, including chromatic effects. The bubbles captured inside the material are typical of ballotton sommerso, obtained with a pointed wooden mould known as a "fracco", and a precise sequence of firings followed by blowing. After the cold tempering, the internal surface is treated with acid-etching and then mirror finishing. The final effect is a silvery background that highlights the motif of the bubbles, while reflecting the light from the source. The inner layer is always in transparent crystal, while the outer layer can be coloured, in the variants Olive, Cadet Blue, Bluastro, Violet, Antalia Green and Brown, all hues from the new Barovier&Toso palette. The metal parts, base and collar have a sophisticated character with their finish in Brushed Gold or Black Chrome.
Based on a centuries-old tradition in the art of glass, every new Barovier&Toso collection is permeated by novel creative adventures, capable of exploring and enriching the intense range of possibilities developed by the master glassmakers of the past. The collaboration with international designers brings an even more powerful thrust to this osmotic exchange between tradition and innovation, renewing the cultural and experimental ferment that forms the basis of the company's entire path of growth.