Major inauguration in Singapore for the Barovier&Toso showroom.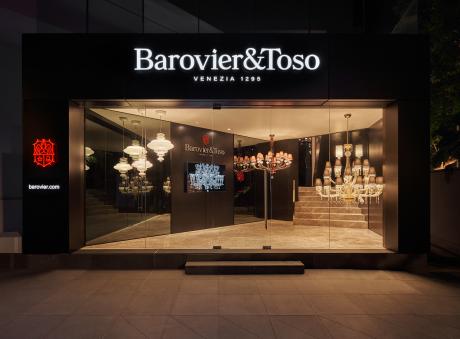 Singapore, Nassim Road, amidst leading international design brands, embassies and villas, inside one of the most luxurious neighbourhoods of the city, renowned as an important financial centre and a live hub of creativity, as well as a crossroads of peoples and cultures: in the heart of Southeast Asia, Barovier&Toso has opened its first foreign single-brand location.
About one year after the initial opening, the enthusiasm generated by this new adventure beyond the boundaries of Italy remains lively and full of energy. To celebrate this positive wave of success, the showroom has reopened its doors for an official inauguration, where the absolute protagonists are the creations of Barovier&Toso, bearing witness to the luxury and excellence of Made in Italy.
Relying on seven centuries of history, the company has an enviable background and remarkable legacy. From Murano to Singapore, the art of glass speaks a single, delicate and mysterious language, based on refined workmanship in Venetian Crystal rigorously crafted on the island of Murano. The flagship store represents all this, through an extensive display of catalogue products, but also through the communication of the values and identity of the brand.
The installation alternates a selection of chandeliers, suspension lamps, wall sconce, floor and table lamps, presented in an elegant, refined context, amidst marble, mirrors and dark walls, to create a warm, welcoming atmosphere. With large windows on the street, the entrance immediately immerses visitors in the Venetian lagoon, thanks to a history wall that leads to the discovery of the world of Barovier&Toso. Organized in 120 sqm, the showroom continues inside with spaces set aside for interaction and consulting, relying on a qualified team made available to work together with architects and interior designers.
During this first year of activity the international spirit of the showroom has already come to the fore. Now that all the routes of tourism and commerce are energetically returning to normal, new dynamism and ferment can be foreseen. In particular, Barovier&Toso is proud to be able to address an oriental audience of great refinement, with a focus on Italian style and quality, in a direct, exclusive context. The company is ready to offer service at the highest levels, guaranteeing fully personalized products to respond to the needs and desires of every single client. The showroom experience is exclusive and inimitable, painstaking and made to measure, reflecting a remarkable concentrate of know-how that goes beyond the boundaries of craftsmanship and production.