From the historical archives of the glassworks: Barovier&Toso has again given form to the Candelabro Pertini, responding to the wishes of a special client.
A tailor-made project that bears witness to the company's ability to fulfil even the most unusual desires of the most demanding customers.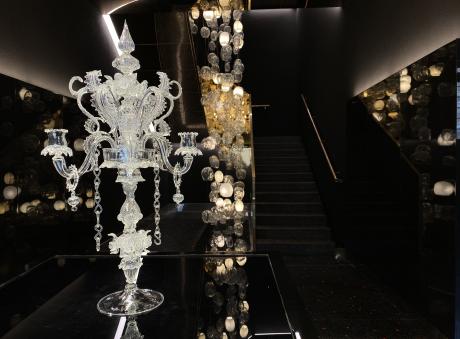 The historical archive of Barovier&Toso is full of drawings, sketches, formulas which the company has safeguarded and amassed across seven centuries of history. It is a matrix of identity and culture, a precious resource to utilize in the creative design phase, and beyond.
One of the privileges Barovier&Toso can offer its clients is precisely to range beyond the catalogue models, getting past the concept of the collection to achieve a truly "tailormade" approach. Taking inspiration from the drawings in the historical archive, or faithfully reproducing the models they represent, is an extraordinary luxury for those who desire uniqueness par excellence: the true luxury of personalization!
One admirable example of this combination of historical memory and the art of glassmaking is the latest bespoke project created for a special client by Barovier&Toso, leading to the production of the Candelabro Pertini, a work of art of exceptional value.
This is a classic candelabrum with three lights, entirely made by hand in Venetian Crystal, reproducing every detail of a piece from the archives, that has been replicated to date only four times. The first two specimens were commissioned in the 1980s by the then President of the Italian Republic Sandro Pertini, who wanted to display the pair at the Quirinale. From then on, in his honour, the design has been known as the "Candelabro Pertini". During an official visit to Rome, Her Majesty Elizabeth II and Prince Philip, Duke of Edinburgh, were photographed as they admired these magnificent creations.
Such remarkable requests are always welcomed with enthusiasm by the company, and the same has been true in this case, in an effort to make every aspect absolutely perfect. The total mastery of the glass material, the knowledge of all its secrets and techniques, have deep roots in an ancient tradition of true dedication to the art of glass, generation after generation.