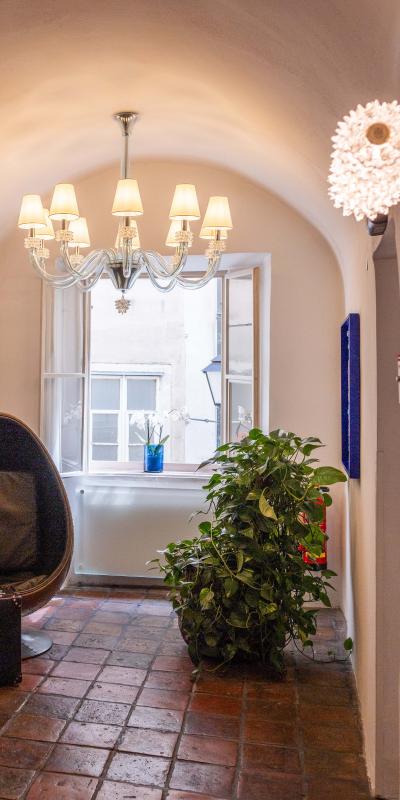 It is located in a privileged position, in the historic center of Salzburg, a few meters from the Cathedral and Mozart's birthplace. Overlooking the Salzach River, the eighteenthcentury building has been renovated to accommodate 16 rooms, all different from each other, each dedicated to a theatrical performance. The Goldgasse is a boutique hotel that evokes the flavors of a private residence, drawing on atmospheres of the past, revisited in an unconventional way. Frescoed ceilings, authentic 18th century stuccos, silk-screened glass walls, like scenic wings, define a welcoming refuge with authentic charm. Characterized by bright colors, like those of the rooms, the Barovier&Toso creations embellish the rooms, from the Samurai floor lamps in a bluish color and in the bespoke caramel version, to the Izmir chandelier in a liquid citron colour. The stylistic contrast adopted for the restaurant is strong, rustic in the furnishings and refined in the lighting, characterized by the indigo colored Vallonné and Vallonné Opale suspensions. Opéra and Amsterdam instead dialogue with a selection of works of art exhibited in one of the main internal paths.
PROJECT: Goldgasse Hotel
PHOTO: Michael Groessinger
REFERENCES: Samurai floor lamps, Amsterdam chandelier, Opéra wall sconce, Izmir chandelier and Vallonné and Vallonné Opale suspensions.